Surprise! One (or more) of your residents got a new pet over the holidays. While the image of new puppies and kittens popping out of gift boxes is undeniably adorable, new pets mean added liability for you as the housing provider and more responsibility for your residents to care for your rental property.
PetScreening helps pet-friendly housing providers mitigate the risk that comes with housing pets and pet owners. Let's take a look at a few ways PetScreening can help hold your residents more accountable in your rental properties now and well into the New Year.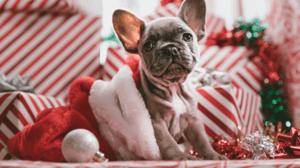 #1. Have your residents complete a PetScreening Pet Profile. Keep in mind that new pet owners may not have vet and vaccination history for a new puppy or kitten at the time they get their pet. However, this should not be a reason for a resident to not create and activate their Pet Profile. Since an active Pet Profile can be updated in real time, your resident can update their profile whenever there are new records available. Since puppies and kittens tend to grow quickly in their first year, your resident can upload a new pet photo, as well, ensuring your records are up to date.
#2. It's not uncommon for a new pet to go through a chewing phase or have a few accidents. Responsible pet owners will take care to curb destructive behaviors, but mistakes can still happen. With PetScreening's Incident Report tool, housing providers can report and track pet-related incidents for each pet residing in their rental properties. An Incident Report will follow the pet and pet owner for the lifetime of their Pet Profile, even if they relocate to another rental property.
#3. A lot can change in a year, especially with a puppy or kitten. Pet Profiles are valid for one year from the date that the are activated, and PetScreening sends all pet owners a friendly email reminder when their Pet Profiles are getting ready to expire. If your resident is continuing their lease with you, it is important that they renew their Pet Profile and make any necessary updates to their pet's information. Keep in mind that a Pet Profile url never changes, even when the resident renews or updates the profile information.
Having your residents complete a Pet Profile at PetScreening.com for their new pets — and keep the profile updated as their pets grow — helps build responsible pet ownership, holds your residents more accountable and gives you an added layer of third-party liability protection.
For more information on how PetScreening can help housing providers manage household pets, reduce liability and generate revenue opportunities, take a look at our frequently asked questions.